Thank you for your interest in the doctoral degree (PhD) opportunities at the Faculty of Arts and Humanities!
Are you looking to receive overall information about the faculty's PhD degree opportunities? Contact Dr.in Anda-Lisa Harmening.
Are you looking for answers regarding enrollment and administrative help? Contact Kathrin Heithecker.
As the PhD board's chairwoman, Prof. Dr. Heike Buhl is also happy to answer your questions regarding the doctoral degree (PhD) opportunities within our faculty.
If you are looking for specific information regarding the supervision or possible topics for your PhD thesis: we suggest talking to your subject's professors directly.
Please contact Anke Riebau with questions regarding stays abroad or if you are an international incoming doctoral candidate or postdoc of the Faculty of Arts and Humanities.
Consultation
Graduate Center of the Faculty of Arts and Humanites

Consultations for PhD-Students and Postdocs

Office hours:
Sie erreichen mich telefonisch oder per E-Mail und können gerne individuelle Beratungstermine mit mir vereinbaren. Ich freue mich auf unsere Gespräche!
**Vom 26.09.-10.10.2022 werde ich im Urlaub und daher nicht erreichbar sein.**
Contact
Fakultät für Kulturwissenschaften > Dekanat Kulturwissenschaften

Sekretariat des Dekanats, Forschungsreserve, Lehraufträge, Studienbeirat. Kommissarisch: Promotionsausschuss & Stipendien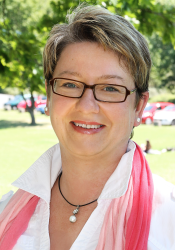 Office hours:
Montags erreichen Sie mich im Homeoffice per eMail oder unter 05251 60-3221.
Meine Sprechzeiten in C5.301 sind Mo-Fr von 9-12 Uhr, nachmittags nach Absprache.
PhD board's chairwoman
Fakultät für Kulturwissenschaften

Vorsitzende des Promotionsausschusses